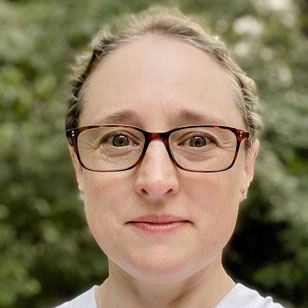 Alexis Peirce Caudell
Lecturer
Contact Information
abpeirce@indiana.edu
(812) 856-2882
Myles Brand Hall 207
Office hours: See Below
Education
Ph.D. in Informatics at Indiana University
Courses Taught at Luddy
I202 Social Informatics
I400 Technological Nature
I453 Computer and Information Ethics
I494 Design and Development of an Information System (Capstone)
Biography
Office Hours Fall 2021 11/29-12/3

Monday: 3-4pm (Zoom or In-Person)
Tuesday: 1-2pm am (Zoom or In-Person)

If my office hours conflict with your schedule, please ask to make an appointment.
https://iu.zoom.us/j/87650449733

Alexis Peirce Caudell is a children's geographer (someone who studies the places and spaces of children's lives) and lecturer (someone who is focused on teaching and learning) in the Informatics Department. Her scholarly interests focus on questions about the role of technologies in children's spatial imaginaries and lived experiences.
Dr. Peirce Caudell is committed to bringing the complex relationship between technology and larger social, political, legal, and economic systems to students' experiences at lU. She earned her Ph.D. in Informatics from Indiana University, and also holds degrees in Instructional Technology from the University of Georgia (M.Ed), and Library and Information Science from the University of Wisconsin-Milwaukee (M.LIS). As part of her commitment to teaching responsible computing, Alexis works on the "Ethics, Values, and Technology: developing character for a digital world" project funded by a grant from Lily Endowment Inc.
Research Areas
Computing, Culture, and Society
Ethics and Values in Digital Society
Animal Informatics
Teaching and Learning
Computing and the Environment
Child-Computer Interaction