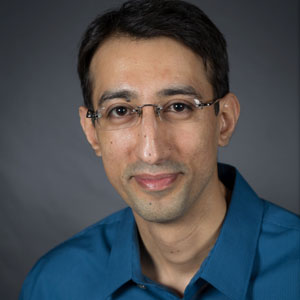 Adeel A Bhutta
Senior Lecturer
Education
M.S. in Computer Science at University of Central Florida, Orlando, 2012
M.S. in Computer Engineering at University of Central Florida, Orlando, 2006
B.S. in Electronic Engineering at GIK Institute, Pakistan, 1999
Courses Taught at SICE
B456 Image Processing
C291 System Programming with C and Unix
H212/C212/A592 Introduction to Computer Systems
Biography
Mr. Adeel Bhutta is currently Senior Lecturer of Computer Science in the School of Informatics, Computing, and Engineering. Until July 2016, he was the Coordinator and Lecturer of Computer Technology (COMT) at Kent State University (KSU) - Stark (with additional appointments in CS and MIS). During those 4 years, he developed the COMT program from grouds-up and led one of the fastest growing programs on campus.
Before joining KSU, Mr. Bhutta taught at University of Central Florida (UCF) and Valencia College for 5 years. his teaching expertise include a wide range of subjects within CS, ECE and IT. He has developed and taught many face2face, hybrid and fully online courses in different areas including Programming, App Development, Digital Systems, Computer Organization and Architecture, Networking, Security and Forensics.
Mr. Bhutta has worked in industry for 3 years on optimization of Video Compression algorithms (H263) for TriMedia processors and has developed application software for Voice over IP (VoIP) systems.
Mr. Bhutta is also a PhD Candidate of Computer Engineering at UCF and holds MS degrees in Computer Science as well as Computer Engineering. He also earned his BS degree in Electronic Engineering. His primary areas of research include Image Processing and Computer Vision and he is currently working on Selective Subtraction, Dynamic Background Subtraction, Line Tracking and Dense Correspondences.
Mr. Bhutta has also been very active in University/Campus activities and Community Services and has been recognized for outstanding academic achievements, service and leadership by several scholarships and awards. Most recently he was awarded IU's prestigious Trustees Teaching Award (2018-19).
Research Areas
Teaching and Learning
Computer Vision, Speech, and Music Processing
Computer Engineering