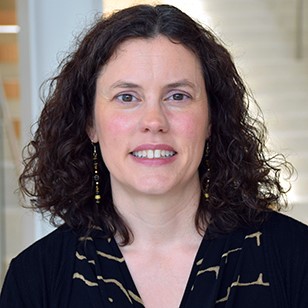 Kay Connelly
Kay Connelly, the associate dean for research at the Luddy School of Informatics, Computing, and Engineering, has been named a Provost Professor by IU's Office of the Vice Provost for Faculty and Academic Affairs.
The Provost Professor Award is awarded annually to faculty who have achieved local, national, and international distinction in both teaching and research activity. Connelly is one of just five IU faculty members to be afforded the honor this year. Her research lies at the intersection of mobile and pervasive computing and healthcare.
"Kay's impact on our students and research at our school is felt every day," said Dennis Groth, interim dean of the Luddy School. "Her work influencing user acceptance of technologies that will improve their health and everyday lives serves as an inspiration, and she's richly deserving of this honor."
Connelly has a passion for developing technology that allows both the ill and the healthy manage and improve their quality of lives through the use of smart and wearable devices, and technology that allows family and friends to monitor the well-being of the elderly. Her research helps empower people to improve their health while also allowing them to stay in their homes.
The Provost Professor Award includes a $5,000 grant to be used on a project of Connelly's choosing to demonstrate how teaching and research are mutually reinforcing.
"I have spent my entire career at IU and am in constant awe of our amazing faculty," Connelly said. "To have the campus select me for this prestigious distinction is a true honor. I always enjoy bringing my research into the classroom to motivate students to explore the societal impact of technology. This award will provide resources to create some truly innovative experiences for students."