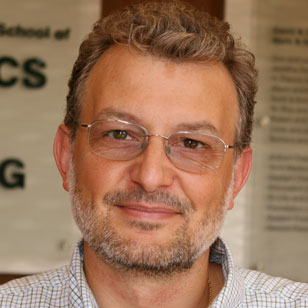 Filippo Menczer
Luddy Distinguished Professor of Informatics and Computer Science
Phone:
(812) 856-1377
Office:
Luddy Center for Artificial Intelligence (1015 E. 11th St.) | Room: 2028
Website:
https://cnets.indiana.edu/fil/
Office Hours
Fall 2022: Tu-Th 4:30-5pm or by appointment.
Education
Ph.D. in Computer Science and Cognitive Science at University of California, San Diego, 1998
Laurea in Physics at Sapienza University, Rome, 1990
Courses Taught at Luddy
INFO-I368 Introduction to Network Science
Biography
Filippo Menczer is a Luddy distinguished professor of informatics and computer science at Indiana University, Bloomington, and Director of the Observatory on Social Media. He has courtesy appointments in cognitive science and physics. He holds a Laurea in Physics from the Sapienza University of Rome and a Ph.D. in Computer Science and Cognitive Science from the University of California, San Diego. Dr. Menczer is an ACM Fellow, a Fellow of the Center for Computer-Mediated Communication, a Senior Research Fellow of The Kinsey Institute, and a board member of the IU Network Science Institute. He previously served as division chair in the IUB School of Informatics and Computing, director of the Center for Complex Networks and Systems Research, visiting scientist at Yahoo Research, Fellow of the Institute for Scientific Interchange Foundation in Torino, Italy, and Fellow-at-large of the Santa Fe Institute. His research interests span Web and data science, computational social science, science of science, and modeling of complex information networks. In the last ten years, his lab has led efforts to study online misinformation spread and to develop tools to detect and counter social media manipulation. This work has been covered in many US and international news sources, including The New York Times, Wall Street Journal, Washington Post, NPR, PBS, CNN, BBC, Economist, Guardian, Atlantic, Reuters, Science, and Nature. Menczer received multiple service awards and currently serves as associate editor of the Network Science journal and on the editorial boards of EPJ Data Science, PeerJ Computer Science, and Harvard Misinformation Review.
Luddy Research Areas
Other Research Areas
Computational Journalism
Computational Social Science
Data Analytics for Graphs
Data Science for Applications
Network Science
Science of Science
Social and Ethical Aspects of Data Science
Web Science
Artificial Intelligence
Data Science
Social Media
Centers