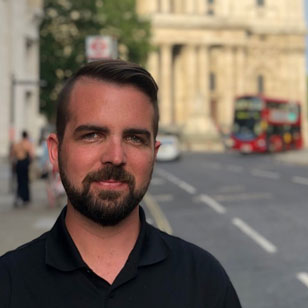 Logan J Paul
Senior Lecturer
School Curriculum Committee

Education
M.S. in Information Science at Indiana University, Bloomington, 2015
B.S. in Informatics at Indiana University, Bloomington, 2013
Courses Taught at Luddy
INFO I303 Organizational Informatics
INFO I308 Information Representation
Biography
Office Hours for Spring 2022
Week 16 (05/02/2022 - 05/06/2022)
M 12:00 - 12:50 PM EST on Zoom (https://iu.zoom.us/my/infocpst)
W 11:00 - 11:50 AM EST on Zoom (https://iu.zoom.us/my/infocpst)
Office Hours for Summer 2022 (05/09/2022 through 07/29/2022)
Booking available 20 days in advance. Appointments are available TW from 10:00 to 11:15 AM in 15 minute chunks. If booked, you are welcome to show up and hang out in the waiting room in case there is extra time. Booked appointments will be prioritized. All appointments are on Zoom.
No office hours on 05/10/2022 + 05/11/2022 (OOO), 05/31/2022 + 06/01/2022 (Conference), and 07/05/2022 + 07/06/2022 (Holiday).
About Logan
Logan teaches Luddy's large introductory course, courses covering project management and databases, and the informatics capstone course. In addition to teaching, Logan administers the department's internship for credit opportunities and is engaged in pedagogical research with collaborators around the campus funded by the Association of American Universities. He has been with the Luddy School since 2016.
Luddy Research Areas
Other Research Areas
Data Science for Applications
Database and Information Systems
Databases and Data Mining
Data Science
Centers