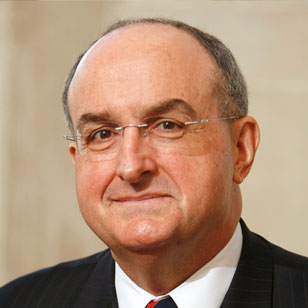 Michael McRobbie
President, Indiana University
Professor of Computer Science and Informatics
Adjunct Professor of Information Science
Vice President for Research
Adjunct Professor of Cognitive Science
Professor of Philosophy
Professor of Computer Technology, Purdue School of Engineering and Technology
Contact Information
mcrobbie@indiana.edu
(812) 855-5752


Biography
Michael A. McRobbie became Indiana University 18th president on July 1, 2007. In making its unanimous decision, the IU Board of Trustees cited McRobbie's extensive record of accomplishment in various roles as a senior administrator at IU as well as his strong academic credentials. McRobbie's broad expertise in fostering research partnerships and his collaborative leadership style have enhanced the educational and research missions of the glorious traditions in the arts.
When McRobbie came to IU as vice president of information technology in 1997, then-IU President Myles Brand asked him to create a modern information technology environment throughout the university that would make the university a leader "in absolute terms for uses and applications of IT." As a first step, McRobbie prepared the IU Information Technology Strategic Plan, an ambitious plan that has served as a model for institutions across the nation. He also played a major role in the creation of the School of Informatics, the nation's first university program to combine all aspects of information technology into a single discipline.
McRobbie drew on his extensive background in high-performance computer networking as he directed the development of I-Light, an integrated, high-speed optical fiber network that links IU Bloomington, Indiana University-Purdue University Indianapolis (IUPUI), Purdue University, and a number of other universities. His foresight led to IU's involvement and management of the Internet2 Abilene network, a national, high-speed data network that supports research among universities across the country and has fostered relationships for high-speed connections around the world. He also founded IU's Pervasive Technology Laboratories, funded in 1999 by a $30 million grant from the Lilly Endowment.
In May 2003, McRobbie was given additional responsibilities as vice president for research. His aim was to increase external funding for IU programs with the goal of doubling such funding by 2010. He has been instrumental in securing multimillion dollar grants for life sciences initiatives such as the Indiana Metabolomics and Cytomics Initiative (METACyt) and the Indiana Genomics Initiative at IU (INGEN), as well as for the popular New Frontiers in the Arts and Humanities Program, which supports the creation of major new works of art in a variety of genres.
In 2006, he helped the university reach a deal with IBM to acquire one of the world's 20 most powerful supercomputers, ensuring IU's continued leadership in national research initiatives such as the National Science Foundation's TeraGrid, which links the nation's most powerful supercomputers.
That same year McRobbie was appointed interim provost and vice president for academic affairs at IU Bloomington. In that role, he pursued priorities for the arts and humanities, life sciences, and the recruitment and retention of students and faculty. He also worked to develop an international strategic plan to help create and nurture global relationships that support the university's academic programs and provide opportunities for faculty and students. Leading university delegations to China and Japan in 2006, McRobbie helped establish and renew cooperative research ventures with several of those nations' premier universities.
In addition to his senior administrative responsibilities, McRobbie holds professorships in cognitive science, computer science, informatics, and philosophy, and an adjunct professorship in library and information science on the IU Bloomington campus. He is also a professor of computer technology in the Purdue School of Engineering at the IUPUI campus. A principal investigator on numerous grants, his research interests include artificial intelligence, automated theorem-proving and computational logic, high performance networking, and the non-numerical applications of parallel supercomputing, especially in symbolic computation.
A native of Australia, McRobbie came to IU from the Institute of Advanced Study at the Australian National University (ANU), where he was a professor of information technology and chief executive officer of the Cooperative Research Centre for Advanced Computational Systems. He earned a bachelor's degree from the University of Queensland and a doctoral degree from ANU.
In his spare time, McRobbie is an avid reader with a special interest in history and the arts. A widower who recently remarried, he and his wife, Laurie Burns McRobbie, enjoy travel and keep busy with their six children.