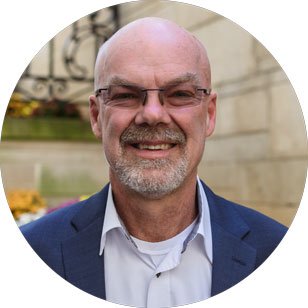 Craig Stewart
Adjunct Professor of Computer Science
Education
Ph.D. in Ecology & Evolutionary Biology at Indiana University, 1988
Biography
Dr. Craig A. Stewart has been for decades a leading innovator and strategist in advanced computing and cyberinfrastructure for research and development. The peak of his professional career was from 2005 through 2020, leading the Indiana University Pervasive Technology Institute. IU PTI is Indiana University's flagship organization for research and development in cyberinfrastructure, informatics, and computer science in support of science and engineering research, artistic creativity, and cybersecurity. (Stewart's group coined the now standard definition of cyberinfrastructure – see hdl.handle.net/2022/21589). Research in life sciences and medicine have been particular areas of focus throughout Stewart's career. Starting in 2007 Stewart set a goal of having all of IU's central research IT systems aligned with HIPAA (compute and storage), a goal that was accomplished in 2009. IU was the first US supercomputer center to do this (that we know of; classified centers may have accomplished this earlier).
Stewart has been on several committees for the National Science Foundation, as well as on advisory committees and in leadership of a number of other organizations related to advanced computing. Stewart was additionally on staff of the Bio directorate of the NSF. Stewart is a past chair of the Coalition for Advanced Scientific Computation and in this role testified before the House Science and Technology Committee. In addition to his work at IU and in the USA generally, Stewart has been a visiting faculty member in Computer Science at the Universität Stuttgart and a Fulbright Senior Scholar at the Technische Universität Dresden. Stewart retired from full time work at IU in October of 2020.
As a semi-retired cyberinfrastructure expert and Adjunct Professor of Computer Science, Stewart's activities center on the following goals:
enhance the value of advanced research cyberinfrastructure and explain that value through analyses of Return on Investment in cyberinfrastructure;
continue research related to informatics technology and biomedical research, particularly related to cancer;
continue research in evolutionary biology, focused on genomics.