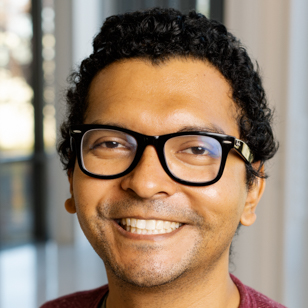 Allan Martell
Assistant Professor of Information and Library Science
Email:
allmarte@iu.edu
Phone:
(812) 856-3001
Office:
Luddy Hall (700 N. Woodlawn Ave) | Room: 2108
Website:
https://allanmartell.github.io/
Education
Ph.D. in Information at University of Michigan, 2020
M.S. in Digital Media at Georgia Institute of Technology, 2012
B.A. in Social Communications at Central American University, 2008
Courses Taught at Luddy
Z503 Representation and Organization
Z764 Archival Appraisal
Biography
Allan A. Martell is an assistant professor at the Department of Information and Library Science at Indiana University, Bloomington. In his work, Martell explores how societies negotiate social memories of violence, the role of information curation in shaping such memories, and possible frameworks to promote more critical, nuanced memories.
A book chapter based on his recent work in El Salvador will also be published in a forthcoming book chapter in the edited volume "Historical Memory and Sociocultural Transformation" co-edited by the Autonomous University of Mexico (UNAM) and the Central American University Press (UCA Editores). Similarly, a recent study about the recordkeeping practices of military veterans, of which Martell is first author, will be published in Archivaria in the Spring of 2023.
Martell received his Ph.D. in Information from the School of Information at the University of Michigan, an M.S. in Digital Media from the Georgia Institute of Technology, and a B.A. in Social Communications from the Central American University (El Salvador). Before joining the faculty at Indiana University, Martell was a postdoctoral researcher at Louisiana State University.
Luddy Research Areas
Other Research Areas
Digital preservation
Social memory
Memorial museums and historical sites
Personal archiving
Design justice
Centers
The Center for Latin American and Caribbean Studies
The Library, Ethics, & Justice Lab